"A meme is an idea, behavior or style that spreads from person to person within a culture. A meme acts as a unit for carrying cultural ideas, symbols or practices, which can be transmitted from one mind to another through writing, speech, gestures, rituals or other imitable phenomena."
-
Wikipedia
"Richard Dawkins's term for an idea considered as a replicator, especially with the connotation that memes parasitise people into propagating them much as viruses do.
Memes can be considered the unit of cultural evolution. Ideas can evolve in a way analogous to biological evolution. Some ideas survive better than others; ideas can mutate through, for example, misunderstandings; and two ideas can recombine to produce a new idea involving elements of each parent idea."
- from
World English Dictionary
Memes can be monetized. Psychology and cultural studies are important to those who want to control the society for their own profit.
In many cases, the PRS formula will be more effective if these memes were found out and taken advantage of.
"The Problem-Reaction-Solution (PRS) formula, also known as Order out of Chaos, has been used in some form for thousands of years. The use of this formula by various governments, groups, & individuals is a historical fact & can't be denied. In its basic form, it consists of using a fictional or real event, such a crisis, to bring about radical change. It is usually employed when the change to be brought about is controversial &/or disliked. And it often includes a type of framing called a False Flag Operation."
More of the above from
here
.
AlCIAda
can be one such meme. A sponsored rouge activity/group can easily be initiated in order to arrange a security contract for a favored business partner of a mole politician. If you were promoted/sponsored by certain military industry within the government, you can find yourself rich beyond the capabilities of one lifetime of toil or be a kingpin of a province like the Ampatuans.
On the other hand, many times, a meme can be monetized even without creating a PRS. That's why you have a mad dash within the media to get hold of a focal point of media meme. Many create a copy of a meme by studying one and using the formula.
When Beatles created a cultural stir, record companies were swift to create other such groups with similar style of music. In the end, because Beatles had a head start, they earned more even if they were already disbanded. - More so than when they were singing non-stop on those different venues.
Nowadays, memes can arise quite fast because of the convergence of media portals and the internet connectedness. And quite frequently, any phenomenon can evolve into the most absurd proportions because of the many ways the media of exposure is prone to so many variations of editing and retransmitting.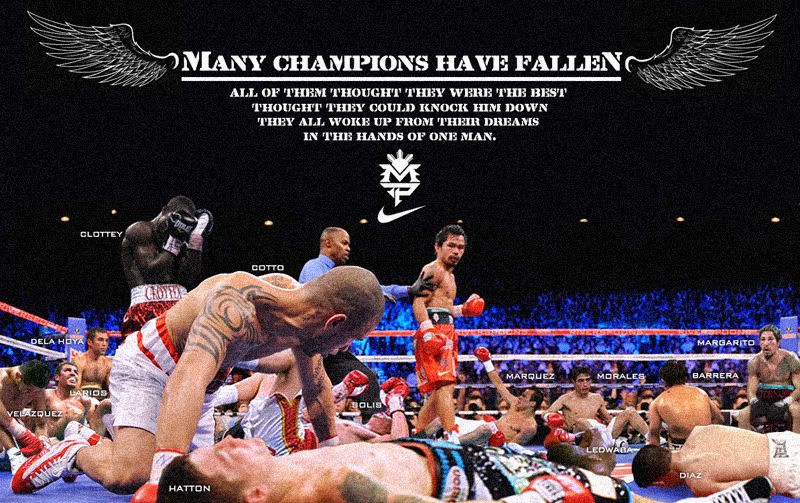 I can say that Shane Mosley was somehow afflicted with a Manny Pacquiao meme. Perhaps he was seeing this picture in his mind when he got hit by Pacquiao:
And do you know who is among the top purveyor of Pacman meme? None other than Floyd Mayweather Sr. See Sr.'s latest comment
here
.
Perhaps we can not blame would be opponents to be scared like Mosley was. All those higlight reels has somehow created a Pacquiao character that one would think he had the genes of Hercules. Perhaps, Pacquiao's hard work paid off and breached the threshold of what conventional boxing was supposed to be.
And that conventional mentality can be a straight jacket that is difficult to wiggle out so that one just have to reason out that popping a pill (or such other outside chemicals) was automatically used for such achievement.
Is Mosley a Shot Boxer?
At the weigh-in video that I saw, I was really impressed by how good Shane looked. Even Chop-Chop Corley attested that Mosley was really in good condition. I even suspected that he was physically in better condition than when he fought Floyd.
I believe Mosley really showed better condition, better movement and footwork against Pacquiao as compared to when he fought Floyd Jr. In fact, I won't believe Shane gassed out with Pacquiao. With concern, Mosley was not just backing off in straight lines, but he was executing a pivot move of disengagement and quick clinches that they must have practiced during the training.
However I was expecting that those pivot disengagement or circling back would somehow recoil into a counter-attack in the same way Marquez employed. Mosley could have been successful because he has longer reach and fights with power punches coming from the outside.
Apparently, Corley and other conventional south paw sparring partners of Mosley were a tad slower than Pacquiao (and this is an under estimation). Mosley had no time to recoil into attack and had little choice but to disengage to avoid an unorthodox fight while being a little bit too friendly in the process to calm Pacquiao a little.
And that was part of the problem, because Pacquiao, despite cramps was not an easy target. Mosley would have been prepared if he had Pacquiao as a sparring partner for the fight.
Yes, that's a problem one has when fighting Pacquiao. Conventional sparring partners will not be too good as a preparation. Mosley could have used a small and fast south paw with brick hand-wraps and body armor to simulate the Pacman.
On the other hand, I think the preponderance of slick and afraid hit-n-run style boxers is limiting boxing. I would have preferred to watch other styles in this sport.
What about snake style boxing, eagle claw style or wing chun style. If not, how about Wilfred Benitez style, Sweat Pea style, RJJ style, Muay Thai style, even Mayorga style.
If Mosley was ever a shot boxer, I would say he was already that kind of shot 4 years ago at age 35. However he will still demolish
inside fighters
who has
less speed
than Pacquiao (just like any Margaritos).
He can extend his career by fighting these inside or mid-range fighters.
What Roach could have prepared Pacquiao More
On Pacquiao's part, I suggest Pacquiao vary more his footwork even if his opponent is circling to his right.
I understand him not pressing Mosley that much. If you were in front of an outside power puncher, would you lounge just as easy? Mayweather momentarily stood and he got rocked. Right there, Mosley provided his own mini-meme.
Inside fighters like Maidana or Hatton (with shorter reach) will be easier to topple by Pacquiao's speed and power. But boxers with long reach and power on the outside will be too risky to engage - midrange to inside (skirmishes).
Much of Pacquiao's power is carried by his legs loading up. Trying that in one direction all night, when his opponent is circling away from the left punch will result to some leg imbalances.
Had Mosley kept moving in straight lines, Pacquiao would have landed much more.
I noticed that Pacquiao tried to shake his legs sometimes and I believe this was the cause. In fact he nearly went down by himself (may be in round 2 - just like he did in Larios fight if my memory serves me right). The one way circling direction of both boxers may have brought blisters on Mosley's foot and cramps on Pacquiao's leg.
More or less the same dance employed by JMM, Barrera (in their 2nd fight) and now Mosley is becoming a strategy against Pacquiao.
So I suggest, that at times, if an opponent keeps circling to his right, Pacquiao can go to his right side/backside of opponent and prepare some combos when his opponent turn to face him. (However, he must be ready in case the opponent is loading a hidden strong right hook.) Manny can even show up to the right side of the orthodox fighter (that is doing that pivot disengage move).
Had he been more playful with Mosley, he could have provided that entertainment to the crowd and avoided cramps. However, I understand that Manny might not want to appear toying with Mosley as it may not be in his culture to clown his opponent and also that Mosley is quite a respectable fighter himself.
My conclusion on this non-fight:
Mosley fell into the scourge of the Pacquiao Meme that even when Manny stood square to invite Mosley to go forward, Shane would not take the invitation.
By the looks of it, Sergio Martinez and maybe Marquez, are the only ones who have not been infected so far.
Pacquiao's explosive punches benefited from the extra pounds carried by his legs. Would Marquez remain so after he feels the added weight loaded on those punches?
-----------------------
This is an article in a subtopic entitled- "Memes: The Manny Pacquiao Expose Series". The said article can be found in the Chapter III of my "Reboot" series which you can find here.